Motor Africa, a mobility and IOT infrastructure startup in Nigeria, and OnePipe, a fintech infrastructure provider, have launched a lending as a service (LaaS) proposition to help mobility entrepreneurs gain access to working capital in the form of an overdraft to finance car repairs, purchase genuine spare parts, vehicle and personal insurance, smart phones, and cash for personal and family welfare support needs.
The technology, which generates analytical telemetry and remittance income data, assists registered lenders in making informed lending decisions while also managing seamless credit repayments.
Motor Africa, a trade name of envio Logistics Inc., has activated more than 2,000 vehicles already on its platform and is now poised to enable those vehicle owners (who currently use the platform to lease their cars to verified drivers on e-hailing services and local transport services) have access to credit services.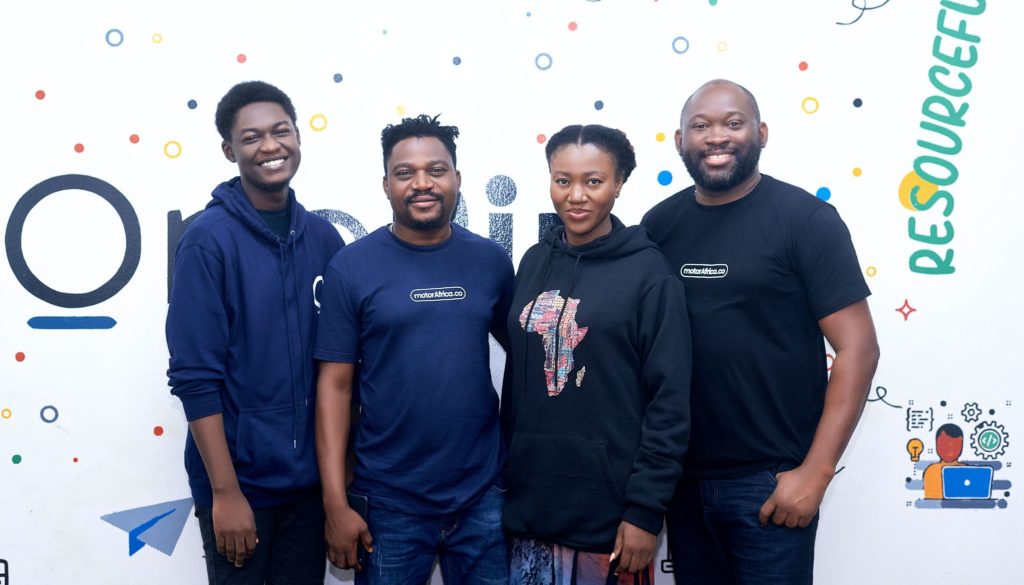 L-R: Akin Olunloye, Solutions Delivery, OnePipe; Babatunde Gbadamosi, Team Lead Motor Africa; Yvonne-Faith Elaigwu, Financial Services, OnePipe; Sylvester Chude, Co-founder /CEO Motor Africa
This service manages driver repayments to the vehicle owner and provides car maintenance oversights at partnered workshops.
Sylvester Chude, co-founder and CEO of envio Logistics Inc, who has been an active participant in the mobility industry, stated that cooperating with OnePipe will facilitate automatic payout settlements to vehicle owners and lending partners.
According to Chude, "commercial transportation is a crucial service for the growth of any economy, and the role of technology and innovation is essential for its success in Africa." Commercial mobility in Africa is estimated to be $150Bn market according to an article by the AfDB and was expected to grow at 8.5% between 2018 and 2023
Ope Adeoye, OnePipe CEO and founder says that, "Working with Motor Africa will assist in addressing the challenges African mobility entrepreneurs experience when trying to get working capital financing".
The Motor Africa technology, which is available on the Google Play store and Apple Appstore, allows for mobility entrepreneurs to register their vehicles, pay a vehicle and activation fee of N15,000, and have their overdraft wallets instantly credited with N600,000 prior to the vehicle being displayed on the mygarage platform to verified drivers.
The platform is also open to fleet operators who have previously leased cars to drivers providing various mobility services.
Also Read: To make ePayments more acceptable, Nigeria needs to curb fraud By Victor Irechukwu, Head of Engineering, OnePipe
In addition, Chude confirmed that the objective of Motor Africa is to facilitate the participation of financial institutions and individuals in funding the car supply gap in order to increase mobility in Africa.
The lending as a service infrastructure, which utilizes hybrid telemetry IOT systems, enables lending partners to create loan products with interest rates and repayment terms, as well as manage credit requests, automatic underwriting, cash disbursement, and repayment collection.
The intelligent repayment collection service enables credit subscribers to make repayments via bank transfer to a dedicated repayment wallet before due dates, failing which the system will automatically disable the engine of the collateralized vehicle and share the geo location with Motor Africa recovery agents in the event of a repayment default.
The Motor Africa service is recommended for hosts leasing out cars for e-hailing services or local last-mile transport services, drivers seeking cars on short-term lease or hire purchase, and financial institutions offering drive-to-own services or lending.
Motor Africa is now offering its services in Lagos, Abuja, Ibadan, Benin, and Port Harcourt, and aims to announce further locations in the second quarter of 2023.